It was 20 years ago today….
Two decades in the financial trenches hopefully taught me something!
---
I reported for work in the Personal Financial Counseling practice at Ernst & Young (the Big 4 accounting firm) June 1, 1998.  I was dissatisfied by a career in the law at which it was obvious to me that I would never be (1) great or (2) happy. Fortunately, I had the good sense and good luck to grab a lifeline when it was thrown my way. The D.C. office of E&Y was booming (something about an internet bubble, as I recall) and they needed energetic people with brains (I think I qualified) to charge as many hours as possible to all of the burgeoning tech firms in the D.C. metro area.  A friend who worked there introduced me to her boss in late 1997 and roughly six months later I started work.
Remember this?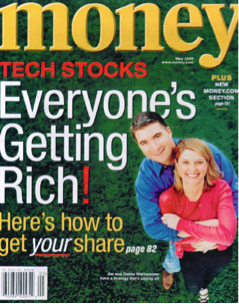 In 1992 when I finished law school and passed the bar I had no plans to make financial planning my life's work. The six years in between graduation and transition to personal finance were incredibly educational along with being occasionally terrifying. In that period as well we had two children, who along with my wife (as a full-time caregiver) were counting on me to provide for them.  Most of my memories of that time were the two of us being some combination of dead tired and flat broke pretty much the entire time.  But we weren't alone: friends helped. Family helped bigly. We may have been broke but we were never poor: we believed in each other and we knew we had what it took to make things better.
20 years later, a handful of things stand out to me:
Things change. Bill Gates's admonition is correct in that most people greatly overestimate how much can change in a year, yet grossly underestimate how much will change in 10 years. This is true for virtually every major force in society.
I did not have any financial milestones as goals as a young person ("you should have X saved by age 30") and I don't regret this a bit.
The best non-financial investment I made was in my health.
The second-best non-financial investment I made was in with whom I chose to spend my time.
I can't remember regretting anything I said 'no' to; I have a few things I regret saying 'yes' to. As any poker player will tell you, a bad fold never hurts as much as a bad call.
In finance most people suffer from 'recency bias': they believe that whatever has happened in the past two years is all that is ever going to happen again. The most valuable work I do for clients is helping them overcome this bias. The fire-hydrant level stream of information available to all has made this harder.
The truth is not that life is short it's that it's pretty damn long: all the people I respect and admire think long-term.
I only work with people whom I respect and admire. Any time I have deviated from this principle I have regretted it (see #5).
William Goldman's admonition about the movie business ("No one knows anything") is true about personal finance as well. We have principles and beliefs that properly applied seem to yield favorable outcomes most of the time. What we do not have is certainty.
The clients who have entrusted their family wealth to my firm are among the most interesting people I've ever had the privilege to know.  Everything that we have in this world is because of their confidence and trust in us.
Next Post
Basic Training
Bang Bang Stocks?
I reported for work in the Personal Financial Counseling practice at Ernst &...